BUILT TO LAST
We build our frames to last a lifetime, therefore we offer a warranty period of 25 years on each original PILOT frame.
STRONG, DURABLE AND LIGHT
Titanium is strong, lightweight and highly corrosion resistant almost as resistant as platinum. It is as strong as steel but only 60 per cent of the density (weight) and unlike steel it does not suffer from metal fatigue. These material properties are in our view perfect to produce durable, comfortable and stunning looking bicycles with.
FULLY CUSTOMIZABLE
At Pilot Cycles we are convinced that the rider has to decide how their ride has to be built up. So therefore you can select your build up in our very user-friendly online bike configurator. And if the component which you would like to see mounted on your bike isn't in our bike configurator please let us know and we'll do our very best to get it for you. After all you decide what your dream bike looks like!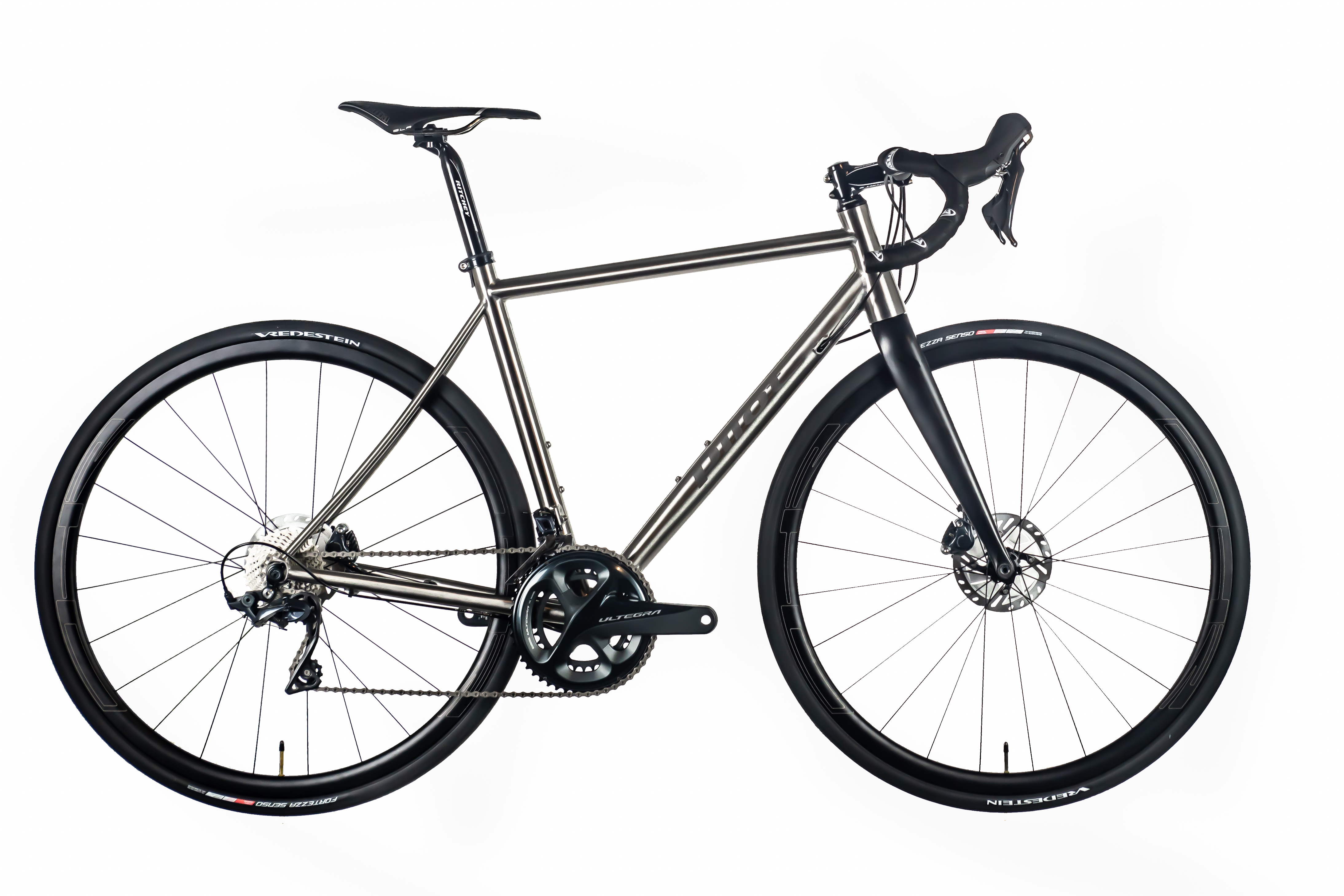 Veturi
Endurance like no other! The Veturi is a titanium touring bike which will give you comfort during your gruesome long distance rides.
On the Veturi, the most gruesome long distance race just feels as the average Sunday morning ride with your mates. That's not just because we used sophisticated double butted and hydro formed tubing, but also because we got the geometry dialed in for the rough stuff, using a longer head tube and some nicely curved seat stays to give more comfort. This frame is built to last a lifetime and many thousands of miles.
How many, that is entirely up to you. Just crank it up!
Celes
When you like to compete then the Celes is your partner in crime. The Celes is a titanium disc road bike designed for speed but despite its fast and nimble character, it doesn't offer a harsh ride.
Are you competitive? Not afraid of challenges? Climbing a mountain for breakfast? Sprinting away during the final lap from the peloton as if they are being parked? Then the Pilot Celes, is your bike of choice. This road bike, manufactured using the highest-grade aerospace titanium. It has been designed to be the fastest machine on the road. This is only one side of the story. The other part is that the CELES, despite its fast and nimble character, it doesn't offer a harsh ride. It keeps you fresh and comfy all day long, even on bumpy roads, due to the natural compliance of our double-butted titanium tubing.
Magna
The all-new Pilot MAGNA maybe the cheapest titanium road bike available in the market! This titanium road bike frame is tailored for the classic road race. Robust but yet elegant. Durable with the timeless flair of titanium.
Modern, fast with all-time classical looks. The Magna gives you all advantages of the latest bike techniques with the classical look of a real timeless road killer. A tarmac lover sure and pure. Equipped with Shimano's latest and high tech titanium frame with elegantly hydro-formed tubing.
Built to last with its beautiful titanium looks.