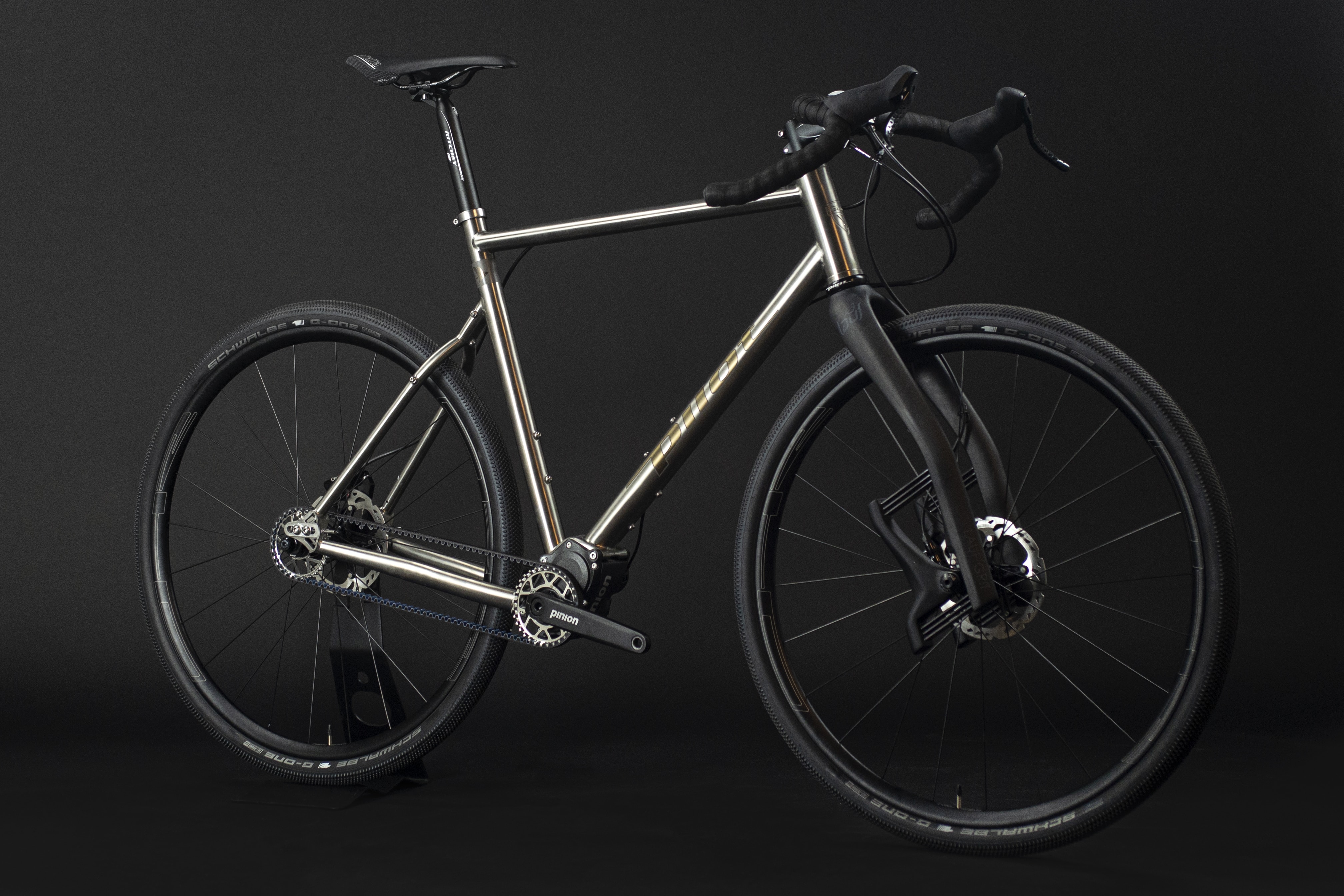 SCRAM Pinion
No compromises! The SCRAM Pinion is designed for the titans that eat a bowl of gravel for breakfast. We have tried to offer you the best of both worlds by creating a gravel bike that is as fast as a racer and as agile as a MTB. The slightly wider front and rear forks provide space for wider tires, in order to keep control of your bike at any time. The natural damping qualities of titanium add an unparalleled smoothness to your ride.
Scared that you are going to spend more time cleaning your bike than actually riding it? Don't worry, the SCRAM is equipped with an indestructible Pinion gearbox, which prevents the gears from getting dirty and worn out. So you can focus on riding your route!
Getting lost in the woods has never felt more enjoyable. The SCRAM is ready for it, so now it's up to you!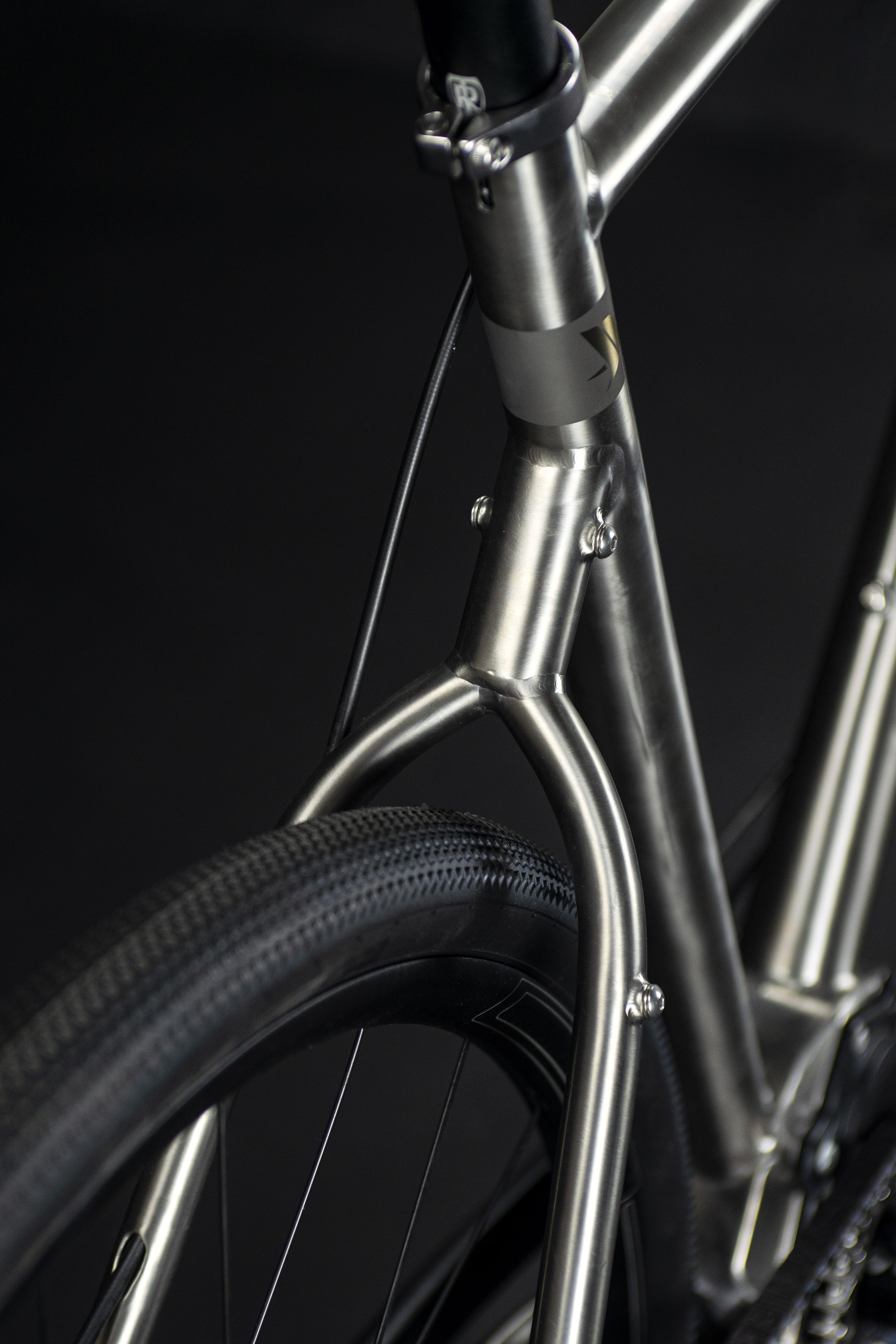 ENDURANCE LIKE NO OTHER
Say goodbye to cheap excuses, because a Pilot endures all circumstances. Our titanium frames are built to last, so be prepared to conquer the elements in winter, spring, summer and fall.  Let's wave to the riders that have to stay on the beaten paths because they are scared that their carbon bike will get scratched. Just trust your Pilot.
EASY LIKE SUNDAY MORNING
Whatever the day, whatever the weather. Your Pilot makes every day feel like an easy Sunday morning. Leave your bicycle tools at home, because our Pinion gearbox does not mean to give up very easily. Just enjoy a carefree ride on a custom made titanium bike, or on one of our well-known models. You decide, you're the titan.
STANDARD BUILD KIT
Handlebar
Ritchey Comp Curve
Satori Beach ERgo
Frame finish
Brushed with blasted logos
Saddle
Selle Italia SLR X-cross Flow
Tires
Schwalbe G-One Allround TLE 40X622
Vredestein Aventura
Headset
Pilot sealed headset ZS44
UPGRADES
Drivetrain
Pinion P1.12 (blue, silver, black)
Pinion P1.18 (blue, silver, black)
Extras
1 X Pilot Titanium bottle cage
Carriers
Pilot Low carrier Titanium
FRAME SPECS
Aerospace grade 5 and grade 9 db titanium
Hydro formed tubing
ZS44 head tube
Postmount brake on sliding dropout
142 x 12 thru axle cnc drop outs
Tire size max 50 x 622 and 2" x 650B
Hand-brushed finish
Titanium Pinion bracket
PRICES
Complete bike from:
€5099
CUSTOMIZE TO YOUR WISHES
At Pilot Cycles we are convinced that the rider has to decide how their ride has to be built up. So therefore you can select your build up in our very user-friendly online bike configurator. And if the component which you would like to see mounted on your bike isn't in our bike configurator please let us know and we'll do our very best to get it for you. After all you decide what your dream bike looks like!